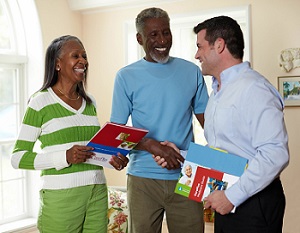 Thank You for Being a Member of CarePlus
As a member of CarePlus, this page is just for you. Here you can find the information and forms you need to manage your healthcare decisions, and provide us with feedback.
We want to make it easy for you to stay in control of your healthcare. As one of our 80,000* members, you are the reason why we work hard to provide you with improved benefits, value and convenience each year. We have always believed that good health care starts with taking good care of your health. That's why we focus on prevention and giving you the benefits you need to stay healthy and happy.
CMS Plan Ratings
The Overall Plan Rating gives you a single summary score that makes it easy for you to compare plans based on quality and performance. The information provided below is an overall plan rating for CarePlus' performance. In addition, you can visit www.medicare.gov to see detailed ratings and find out more about the differences between plans.
2014 CMS Plan Rating Information
Medicare evaluates plans based on a 5-Star rating system. Star Ratings are calculated each year and may change from one year to the next.
CarePlus' Newsletter
CarePlus wants to keep you informed. The Today newsletter is mailed twice a year to CarePlus members and includes helpful information like recipes, educational and health-related articles and company updates.
Today newsletter is published twice a year for CarePlus members. The articles in this publication are primarily for educational purposes, and should not be considered specific medical advice. Should any beneficiary feel the need for medical advice, please consult your primary care physician for specific health concerns.
CarePlus' Member Newsletter – "TODAY"
Summary of the Florida Patient's Bill of Rights and Responsibilities
CarePlus' Summary of the Florida Patient's Bill of Rights and Responsibilities
Exceptions, Grievances, Coverage Determinations, and Redeterminations Information
For important information and forms about Coverage Determinations, Redeterminations and how to appoint a representative, please click here.
Additional Resources
Grievance and Appeals Request Form
Contact numbers for members and physicians who have questions and need to inquire about the status of the Grievance, Coverage Determination and Appeal processes
How to Obtain an Aggregate Number of Grievances, Appeals and Exceptions Filed with the Plan
You can also find detailed information in Chapter 9 of the CarePlus. Evidence of Coverage (EOC) with regard to grievances, coverage determinations (including exceptions), and the appeals process. Links to the EOC can be found on our page entitled 2014 CarePlus Medicare Advantage Plan Information.
Over-The-Counter (OTC) Products
If you are enrolled in a plan that offers OTC benefits, you can take advantage of a monthly allowance amount that you can use to order over-the-counter products. This includes things like cough medicine, pain relievers and first aid items. These products can be sent directly to your home through our easy-to-use OTC mail-order service.
National Coverage Determinations
From time-to-time CMS makes changes to the services that are covered by Medicare. These changes are updated via National Coverage Determinations. You can access the NCD information by using the link below.
Plan Information
Call CarePlus at 1-800-794-5907; from 8 a.m. to 8 p.m., 7 days a week. From February 15th to September 30th, we are open Monday – Friday from 8 a.m. to 8 p.m. TTY users should call 711.